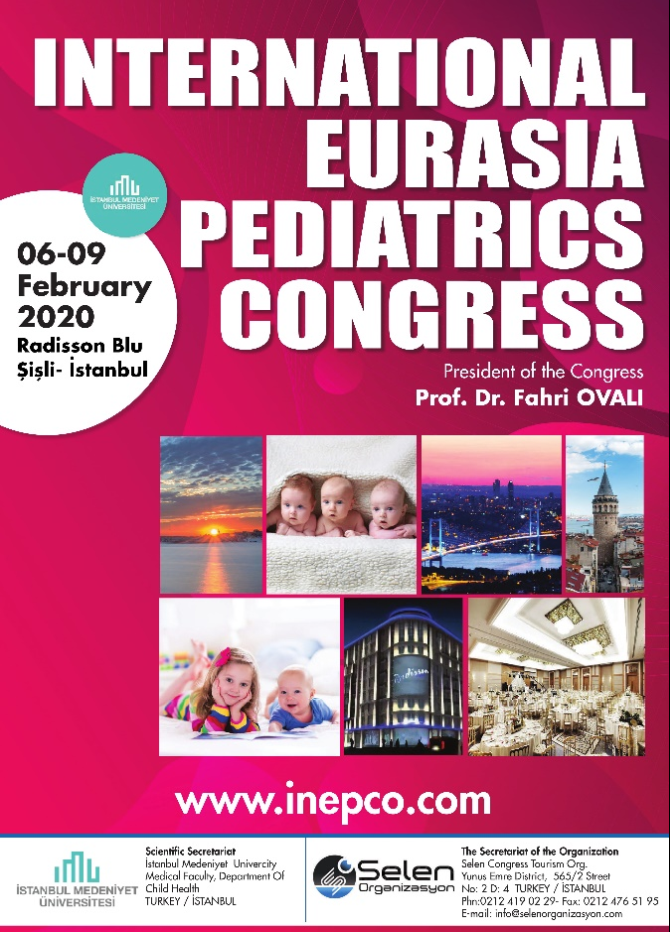 Dear Colleague;
It is my pleasure to invite you to the International Eurasia Pediatrics Congress (INEPCO)  to be held in Istanbul, Turkey between 6-9 February 2020. We are very proud and happy for organizing this special event in the marvellous and historical city, bridging two continents and cultures. We are aiming for gathering pediatricians and friends of all children  from the neighboring countries in the Balkans, Middle East and Asia. By this way, we shall be able to exchange the latest information in the field of pediatrics, as well as setting up new friendships and strengthening old friendships. Our children have similar problems, which means that we may have similar solutions and have a lot things to learn from each other. We shall be able to listen to state of the art lectures from distinguished speakers as well as discussing new research. The scientific program is under construction and we'd be happy to hear your suggestions and possible contributions to the program.
İstanbul is beautiful in all seasons. Our congress will take place in winter time, which will make you see the marvels of Istanbul from a different perspective. We'd be happy to see you, your friends, fellow colleagues and pediatricians of your country in our congress. I'd also like to point out that for any 5 registrations made together from your country, 1 extra person will be registered free of charge.
It will be a great opportunity for all of us to meet at the point where continents meet, bringing together our hands and hearts in this spectacular congress. Hoping to seeing you among us.
With my best regards and love;
Fahri Ovali, MD
President of INEPCO
Professor of Pediatrics and Neonatology, MBA, MSc (Medical Law)
Director, Istanbul Medeniyet University Medical Faculty, Dept. of Pediatrics
Istanbul-Turkey
Saygılarımla / Best Regards