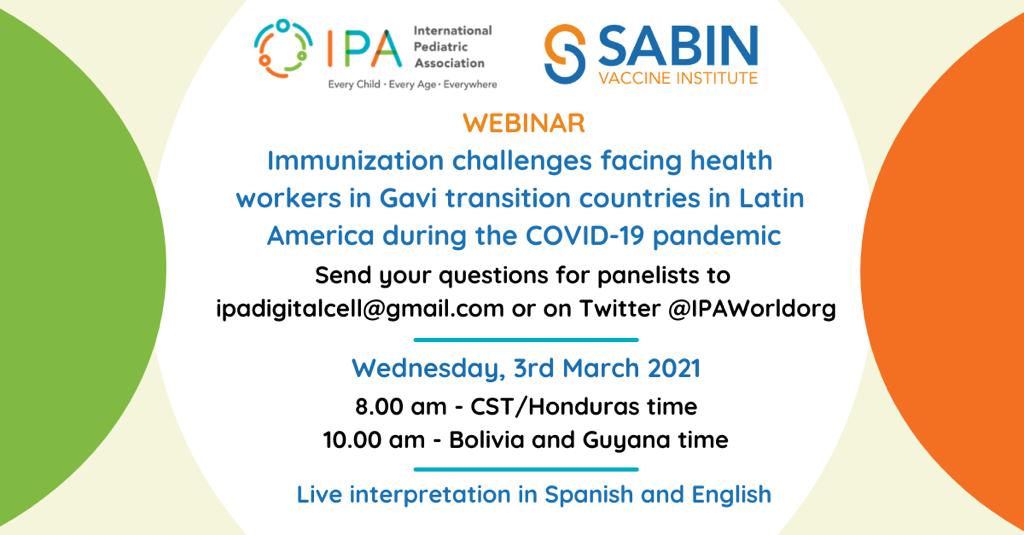 Dear Colleagues,
Greetings from the International Pediatric Association!!    
International Pediatric Association in collaboration with Sabin Vaccine Institute is pleased to invite you for a webinar on "Immunization challenges facing health workers in Gavi transition countries in Latin America during the COVID-19 Pandemic " scheduled on Wednesday, 3rd March 2021 at 8.00 AM CST/Honduras time | 10.00 AM Bolivia and Guyana time.
Please use the time zone converter to correctly identify what time the event will begin in your time zone.
Here is the Zoom Registration link  👉https://us02web.zoom.us/webinar/register/WNAILy7m4TRSWNTOOSp10RMQ
After registering, you will receive a confirmation email containing information about joining the zoom event.
Live interpretation in Spanish and English. 
Request you to share widely with your networks.
Regards,
Dr. Naveen Thacker
Executive Director, IPA